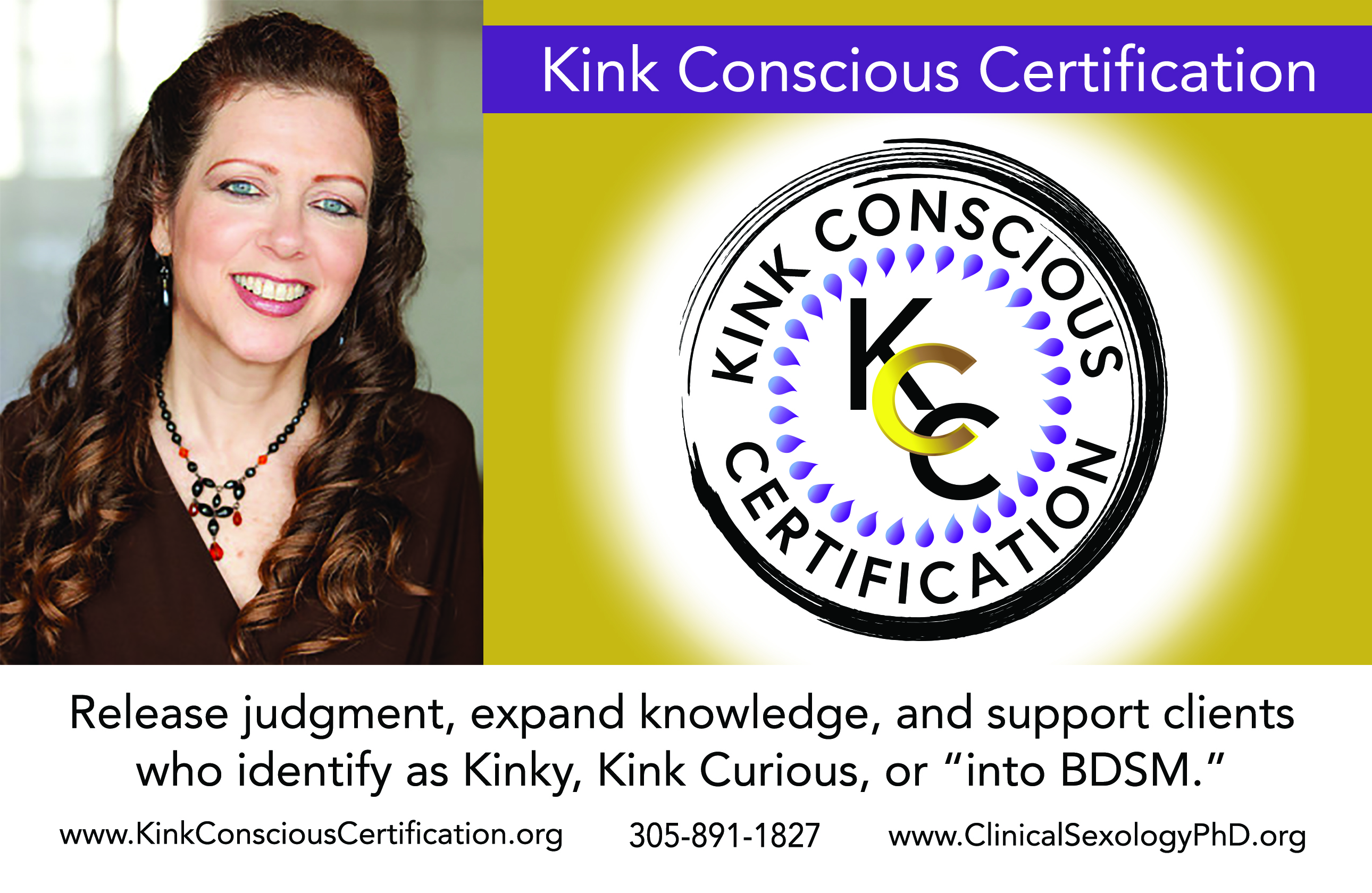 Next Training Winter 2023
February 15-20 , 2023 - Via live webinar: 
Remaining 5 classes via live webinar one class per month
Total training cast $2695 
Class times for 5 days - 10am to 5pm PST  (1pm to 8pm EST)
Class times for subsequent webinars are 9:00am to 3:00pm PST (12pm to 6pm EST)
Thank you for your interest in obtaining your Certification in Kink Conscious Therapy. This program may be taken independently OR can be included in the PhD program in Clinical Sexology at the International Institute of Clinical Sexology.

Your Instructor, Francesca Gentille, is Certified Clinical Sexologist who is a renowned international expert and presenter in Therapeutic BDSM, Sacred Kink, and Tantric BDSM. Curriculum Vitae.

WHO TAKES THIS CERTIFICATION PROGRAM:

Clinicians of all types; Doctors, nurses, psychotherapists, pastoral counselors, health educators, sex educators, school counselors, sex coaches, bodyworkers, somatic specialists, and more.

Each of you will have your own personal, professional and religious ethics that you will be balancing while expanding understanding, empathy, & compassion for the those who identify as kinky or kink curious, as well as holding non judgment for how other clinicians may choose to work within their fields and ethics.

This program can be taken as a stand alone Certification or as your speciality in your PHD Program.

MAXIMUM NUMBER OF STUDENTS:

We cap the number of students at close to 8 so that we can develop a safe, and courageously authentic container to explore the intersectionality of our personal biases, and life experiences as they relate to one another and our clients.

REGISTRATION:

When you pay and register with the main office for the Kink Conscious Certification this 6 month program includes a 5 Day Intensive Immersion.
February - July Cohort: All of the 6 Month Certification program (including the 5 day) is via Zoom Webinar remaining 5 months is via Zoom Webinar
August - January Cohort: The 5 days is in person in San Francisco, the remaining 5 months is via Zoom Webinar on one Wednesday per month.
NOTE: These are separate cohorts. You only register for one of them.
See below for what is included in your tuition and what is not with regards to the 5 days. The remainder of the program will be via webinar.

There are 5 Days in San Francisco, which will ignite the 6 month program. The 5 days are intellectually, and emotionally stimulating and may be experienced as intense.

In order to become an even more effective clinician for your clients in the topic of BDSM/Kink you will be invited to question old or limiting cultural beliefs that you may have currently.

The objective is to utilize education, inquiry, watching demonstrations, exercises and Field Trips to expand your knowledge, wisdom and informed compassion for your clients/students.

You do not need to be kinky (or into BDSM) to take this Certification. You do not need to try anything of Kink nor BDSM physically. You are invited to "try on" new ways of perceiving, analyzing or assessing your own, your clients and society's view of Kink, and BDSM. The purpose of this is to deepen your compassion, empathy, and knowledge where by you can expertly advise your clients should they choose to explore BDSM, and to support them in releasing shame.

There are times this may feel exciting for you, or uncomfortable for you. All your feelings are fine.

In this course we practice owning our own feelings, harvesting their messages, and working with our triggers as signs that there is something from our past inspiring healing in the present. We practice making requests as well as inviting collaboration to grow at our growth edges.

THE 5 DAYS WHETHER IN SAN FRANCISCO OR ZOOMED LIVE TO YOU IS LIKE A SAR:

The days are long (although there will be breaks). Please DO NOT think of this as a vacation. It is a 5 Day Intensive similar to the AASECT SAR. *

*A Sexual Attitude Reassessment, sometimes Sexual Attitude Restructuring (SAR), seminar is a process-oriented, structured group experience to promote participants' awareness of their attitudes and values related to sexuality, and to assist them in understanding how these attitudes and values affect them professionally and personally. Since the primary purpose of a SAR is the examination of attitudes and values, it is not a traditional academic experience designed to disseminate cognitive information, nor is it psychotherapy directed toward the resolution of personal problems. MORE INFO HERE

IF YOU ARE TAKING THE AUGUST COHORT: THE 5 DAYS IS IN PERSON.

If you are wanting to site see in San Francisco, shop, take additional classes, go out to more parties, or relax we recommend arriving 1 to 2 days early and/or remaining 1 to 2 days (or more) after. If you are visting the area with a partner, they are welcome to attend the Field Trips (Munch/Meet Up, Kinky Bar/Club, BDSM Center/Dungeon).

You (and your partner) are welcome to stay at these events or "play" at them AFTER the first hour to 90 minutes of tour, and educational research.

The 5 Days in the San Francisco area will include lecture/seminar, demo's, techniques, and Field Trips.

The evening Field Trips formally occur the first 90 minutes at the event. After that the Instructor will leave the premises. You will be on your own. You too can choose to leave at that time. Or you can choose to stay and participate more in the event. That is your choice and not required by the Program.

Of the 5 nights in the San Francisco are, 3 of them will include Field Trips.

IF YOU ARE TAKING THE FEBRUARY COHORT: THE 5 DAYS IS VIA ZOOM WEBINAR.

We will have special guest presenters, and demos so that you will have an immersive field research experience of BDSM.

HOURS OF THE 5 DAY INTENSIVE IMMERSIVE TRAINING: In general, the hours will be approximately 10am to 5pm (with an hour lunch break) and then an extended dinner break (usually 2 to 4 hours. When we close the classroom at 5pm, you will have open time until we meet up again for the evening Field Trip. Depending on the event it will begin around 7pm, 8pm, or 9pm).

FIELD TRIPS:

The intention of the Field Trips is:
To ask questions from your own clinical curiosity on behalf of your clients/students. For example:

How do people identify?
When/how did they know they were kinky?
What are they "into?" What is that? Why is that?

To become aware of any biases or judgmentalism (especially due to lack of knowledge or enculturation) that could be in the way of holding unconditional positive regard for your clients.
To increase knowledge (and experience if you choose) around what is commonly available at events, and BDSM community functions for your clients interested in Kink/BDSM.
If possible, we recommend taking Monday after the training off for a day of integration and self care. If for what ever reason you are not able to do so, please be tender and careful with your energy throughout the 5 days and afterwards.

The specific hours of the 5 Days, including Field Trips and in class hours, will be finalized within 30 days of the Training. It will remain very close to what has been outlined in this document.

STAYING LATER AT AN EVENT: Students are often choosing to stay at the events until Midnight or 1pm at the late evening events. On those nights, we begin the class a bit later in the next morning. You are not required to stay after the teacher leaves.

WHAT IS OPTIONAL & WHAT IS REQUIRED: A foundational philosophy that has BDSM be safe, is CONSCIOUS CONSENT. It is important that you look within yourself to find what you consent to do and what you do not consent to do.

The videos, films, articles, questions, exercises, and Field Trips may be stirring. If you are committed to being a certified expert in this field of sexuality, we recommend growing at the edge of your comfort zone; neither pushing yourself so far that you break, nor holding back so much that you are not fulfilling your goals in becoming Kink Conscious.

However, do not engage where you feel for any reason that there is a strong NO within you. Speak with Instructor Francesca, or Dr Carol to assess if the Training is right for you and/or if there are ways to substitute certain Field Trips, exercises or experiences for others. There will often be some way to work it out.

CLASSES VIA WEBINAR: The remaining classes for the Certification are via Webinar. The Courses via webinar are 6 hours. 9am to 3pm Pacific Standard Time. There are two 15 minute breaks and a 30 minute meal break in each 6 hour webinar.

MANAGING YOUR WELL BEING: As this Certification is designed to stir up unconscious enculturated shaming and programming around sex, sensation, play, pain, and more, you may have feelings arise. We recommend that you have a plan for your Self Care during and after the 5 days in San Francisco as well as in the entire 6 month certification process. This may include bringing nourishing foods with you, and/or getting massages, and/or taking bubble baths, and/or having a person who you can call to help you process (Examples: Partner. Therapist. Mentor. Trusted friend. Etc)

ADDITIONAL QUESTIONS OR STIRRINGS? As you deepen, expand, and develop your wisdom as a Kink Conscious Clinician, at times the stirrings may feel uncomfortable and/or you may have questions about something you saw, or heard in the program, a presenter, or from Instructor Francesca. We invite you to speak with Francesca directly to gain clarity. If using written communication, use email and cc Dr. Carol Clark. Triggered? Call Dr Carol Clark immediately.

ADDITIONAL COSTS: Your tuition covers all articles, resources and media put into the Google Drive for your Course. It includes all teaching hours including any guest speakers during the 5 days or in the webinars.

The cost of the three Field Trips are not included in your tuition:
The Munch/Meet Up is free. However you may choose to buy food or drink.
The Night Club is $15. However you may choose to purchase alcohol after the instructor leaves approximately 90 minutes into the trip.
The Dungeon Party is $25 to $30 (depending on the Party).
Lodging, food, airfaire, rides to and from the classroom, and/or Field Trips are not included in your tuition. The San Francisco Bay Area has a good Uber/Lyft system, a good subway system (called BART), and it would be easy to rent a car.

As San Francisco has many delightful "Leather and Kink Shops," time permitting you may wish to purchase toys, and fetish clothing. This is not a requirement for the course.

WELCOME & PREP LETTER:

Once you are registered into The Training, you will be put on a list for the coming year's student body.

Approximately 60 to 75 days prior to The Training you will receive a "Finalized Welcome Letter" with the exact dates & themes for parties. If for some reason you need it sooner than 60 days, please let the office staff know.

One of the very best ways to prepare for The Certification Training is to begin to gather questions you may have from your clients, students, or from your own curiosity. Make a list of those questions. Email them to the Instructor 60 to 75 days prior to the Training at This email address is being protected from spambots. You need JavaScript enabled to view it.
#1 & 2 Analysis and Assessment of BDSM in Culture: Two Days
This course is foundational for clinicians to assess their own positive and negative bias toward Kink. It is designed to give clinicians an introduction of the various types kink and BDSM that they will encounter in their medical or therapeutic practice. It will present the modern history of BDSM in a cultural context.
#3 & 4: History & Science of BDSM: Two Days
This course is designed to give clinicians an overview of the ancient and cross cultural history of BDSM. Overview of the neurobiology of love and lust. Introduction of the intersectionality of sex positive culture, Tantra and BDSM. Clinical strategies on supporting the client to release shame.
#5: 3 Sociological Framework of Kink Communities:
This course will provide a classification and description of BDSM terms, communities, safety standards, and relationships. Topics include, but are not limited to, Safer BDSM sensation play and relationship dynamics, contracts, boundaries, negotiation techniques; resources for a client new to BDSM.
#6: Treatment of Sexual Differentiation within Couples:
This course will focus on how to work with client couples when there is a discrepancy in sexual desire or sexual style. Application to ethics, pathology, interventions, resources and case studies will be included.
#7: Gender, Sexual Attraction & Relationship Design:
This course will discuss gender identity versus sexual attraction, as well as variations in the spectrum from monogamy to non-monogamy. This course will focus on how to work with clients participating in D/s relationships.
#8: Review of Research on Kink/BDSM:
This course will focus on presenting the current research in the United States on Kink/BDSM, compiled from the fields of psychology, sociology, and other disciplines.
#9: Contemporary Analysis of BDSM in Media:
This course will explore and evaluate BDSM/Kink in contemporary culture. Comparisons of cultural perspectives from various world views will be examined. A focus on filmography and social media will be included.

A day to make up any missed classes, ask questions etc. Depending may be able to be used as one of your Supervision Sessions.
#10: Intersectionality Between Kink/BDSM and Trauma: July 15, 2020
This course will examine the range of healthy and normal sexual vibrancy as it compares with trauma and abuse. Laws, ethics, Interventions and in-depth case studies will be included.

 
VIDEO - Meet Francesca
VIDEO - Sex matters interviews Francesca Gentille & Tim Emert on sacred kink. Can all sex be sacred? What is Sacred BDSM?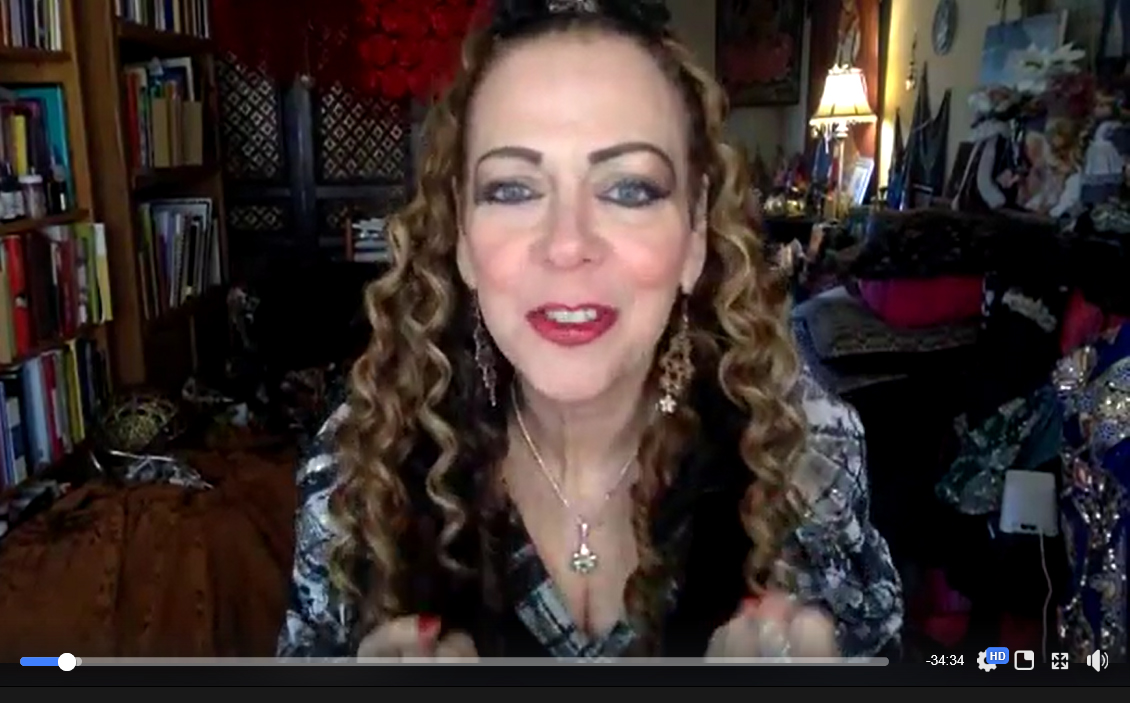 Video: My Partner Says I'm Kinky. That's Disgusting! Could I be?
If you're seeing a lot of this in your Private Practice you may wish to look into the 150 hour training becoming a "Kink Conscious Clinician." (It is a stand alone certification or can be taken as part of your PHD in Sexology).

Article- Conscious Empowerment in the Use Fantasy by Francesca Gentille
Are you working with clients who are Kinky or "into BDSM?"
Do you know that over 36% of Americans identified as practicing some form of BDSM behavior in 2005 and that it's only grown from there?
Would it be of interest to learn how to unpack a kinky fantasy to assess whether or not is a symbolic message, an emotional wound, or a fun opportunity?
Why receive a KINK CONSCIOUS CERTIFICATION?
Your clients are Kink/BDSM curious, and you wish to guide them to the best resources as well as methods to enter into BDSM safely. ​
You work with couples where one of them is more kink curious or already identified as into BDSM and you would like to be skilled at bridging their differences.
You are aware that a growing % of the population is exploring or seeks to explore BDSM.
You would like to clarify the similarities and differences between BDSM, Transgender, Non-Binary, Queer, Non-Monogamy, Polyamory, Age Play, Pet Play etc.
You want to specialize as a cutting edge sexology expert for our culture.
Whether you are already into Kink OR you are someone who knows very little about BDSM​,​
Kink Conscious Certification will give the tools, research, and methodologies
needed to release (positive or negative) judgment, expand knowledge, and support clients who identify as Kinky or "into BDSM."
You will engage in an overview of​ ​
the similarities and differences between the most common range of alternative sexualities as they relate to Kink/BDSM and the most effective modalities to utilize with​ ​
Kink/BDSM identified clients who seek assistance from your clinical, medical, or therapeutic practice.
* Certifications do not qualify for NBCC credits. 
​Kink Conscious Certification offers two six month cohorts per year. 
August to January Cohort is 5 Days in person in San Francisco. Then the remaining 6 months of classes are via webinar.  Check back for Covid updates.
February to July Cohort the entire program including the 5 Day intensive is via webinar.
If you can't travel, the February cohort is best for you!!
$2695 for entire program or take it as your specialty while earning your PhD in Clinical Sexology

FULL DESCRIPTION OF THE CLASSES
This email address is being protected from spambots. You need JavaScript enabled to view it. Find out more here!!
​
Certification is available through THERAPIST CERTIFICATION ASSOCIATION as one of the following:
Kink Conscious Therapist
Kink Conscious Clinician
Kink Conscious Educator
Who Should Take This Training:
This course is  designed to give Sex Educators, Sexuality Resource Managers,
Medical Professionals, Therapists, Sex Counselors, Sex Coaches,
​Sexological Body Workers, Somatic Healers,​ Nurses, Health Educators,
Behavioral Health Specialists, Psychoanalysts, Mental Health Counselors,
Marriage and Family Therapists, Clinical Social Workers, Psychologists,
and other healthcare providers (hereinafter referred to as Clinicians*)
an overview of the similarities and differences between the most common range of alternative sexualities as they relate to Kink/BDSM,
and the most effective modalities to utilize with Kink/BDSM identified clients who seek assistance from your clinical, medical, or therapeutic practice.
Clinicians will be able to identify as Kink Conscious, Kink Aware, Kink Knowledgeable, and Kink Sensitive.
Graduates will be able to
Describe the ancient, cross cultural and contemporary roots of modern kink/BDSM and how this can empower your private practice and your client.
Utilize tools that support collaborating with your client to assess whether or not their desire for Kink/BDSM is a healthy behavior, an invitation for healing, and/or arising from past trauma and/or mental instability.
Describe the neurobiology of love and lust as it applies to Kink/BDSM.
Work effectively with couples when only one identifies as Kinky.
Implement interventions that support clients' expressing their desire for Kink/BDSM in ways that are emotionally, physically and psychologically safe.
Describe the similarities and differences between Kink/BDSM, swinging, polyamory, asexual, sexual identification, fetish and other erotic templates as well as the most effective ways to focus therapeutic interventions.
Describe the difference between Domestic Violence, Codependency, Abuse and BDSM.
Ethical and Legal Issues related to kinky clients.
Overview of academic research on kink/BDSM.
Special topics and ethical challenges when working with kinky clients.
Requirements
Student must be designated as Clinician* as defined in the Course Overview. If you have a question if your job description applies, contact: This email address is being protected from spambots. You need JavaScript enabled to view it.
Evaluation
70 Class Hours
6 Hours of Supervision/Case Consultation
Additional hours of Independent reading and other assignments required
Student Survey, Supervision, Class Participation5 Day Lecture series & Practicum  in San Francisco : August 2022- Covid permitting otherwise via live webinar
Remaining Classes  are held via live webinar one per month. TBA 
LIST OF COURSE TOPICS ARE THE SAME IN EACH TRACK:
Analysis & Assessment of BDSM in Culture
History and Science of BDSM ( live webinar)
Sociological Framework of Kink Communities (live webinar)
Treatment of Sexual Differentiation within Couples (live webinar)
Gender, Sexual Attraction, and Relationship Design (live webinar)
Review of Research on Kink/BDSM (live webinar)
Contemporary Analysis of BDSM in Media (live webinar)
Intersectionality Between Kink/BDSM and Trauma (live webinar)
This email address is being protected from spambots. You need JavaScript enabled to view it.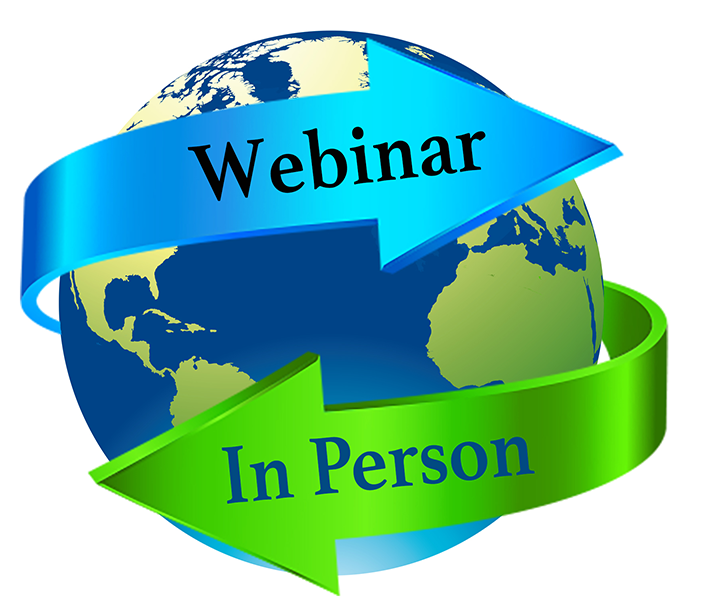 Read More About Francesca Gentille
For the past 40 years Francesca Gentille has been field researching non-monogamy around the world. From the Erotic Temples of San Francisco, to the Dungeons of Rome. From the Swinger Hotels of Oakland, to the Loving More Conferences of Maryland, and sensual parties of the Netherlands. 
 In this course, she will share clinical knowledge, research, practical Field Research and tools garnered from those participating in the lifestyles. 
 For example, it was her mentor who coined the term Polyamory in her article called "A Bouquet of Lovers" in the 1990s. She created the term because prior to that, the term "Open Relationships" was in use to mean something quite different than leading with the heart. 
 Today, depending on where you are in the world, or what the age is of your client there is a range of how people are using terms like:
- Non Monogamy
- Polyamory
- Relationship Anarchy
- Open Relationship
- Emotional Monogamy
- Monogamish 
- And more. . . 
We´ll look at the intersectionality between BDSM and Non Monogamy, Porn and Monogamy, Sex Work and Sex Trafficking. 
You´ll leave with tools to share with clients to help them assess and work with:
What relationship style they may be
What they are driven by or afraid of
How to bridge relational differences
Where and how to find community
The difference between sexual vibrancy and sexual compulsion
What jealousy really means and why agreements fail
Clarification of the distinctions between and intersectionality of gender, orientation, and relational style
Francesca Gentille, Certified Clinical Sexologist and initiated shaman, inspires transformation through combining the science and soul of sexuality. For over 20 years, she´s compassionately empowered 1000s of clients, and students around the world to reclaim the spark, bridge sexual differences, heal from trauma, and deepen self love!
 An expert in the field of integrating sexuality, consciousness, healing, Tantra, Conscious Non-Monogamy, and the use of BDSM as therapeutic modality. She is professor at the International Institute of Clinical Sexology, where she is studying to receive her PhD. She has conducted workshops, and presented at conferences, in the United States, Netherlands, Italy, Malta, Israel, England, Ireland, Canada, Mexico, and Puerto Rico, and England.
She is a quoted expert in books such as Esther Perel´s ¨State of Affairs,¨ Dr Judy Kuriansky´s ¨The Idiot´s Guide to Tantric Sex,¨with a chapter in ¨The Jealousy Handbook,¨and a co-author/editor of ¨The Marriage of Sex & Spirit.¨
Let her know if you have any questions for me about the course, or case studies you would like me to include. One of the features of her teaching style is that she curates and personalizes for those attending. Email: This email address is being protected from spambots. You need JavaScript enabled to view it.