Hello!

Join us as we explore 3 New FREE CE workshops; synchronous webinars of course, a new STTI elective, Sexual Pharmacology, a link to my new book, "My Pocket Therapist: 12 Tools for Living in Connection", and a provocative article by Susan La Fehr Bollinger, Ph.D., LMHC,.

Be Safe and Stay Connected

Be in Light

Carol

All classes can still be attended via live webinar. Including our free classes!!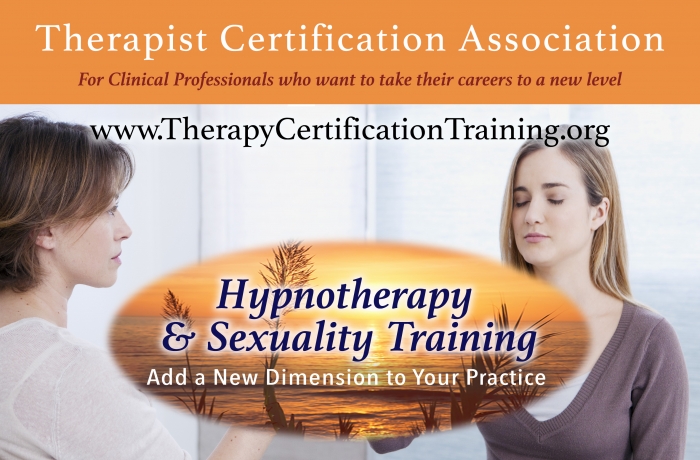 Why Hypnotherapy?
The depth of Hypnotherapy.

For you, the therapist, Hypnotherapy provides you with the tools to take your clients into deeper focus. In this relaxed and deeply focused state, your clients can dive deeply into their subconscious minds. Taking our clients into their subconscious allows us to help them uncover and treat root causes of mental health issues and addiction. It helps our clients unlock the hidden memories and motivations, which are what leads to finding the root causes of distress and conflict.

Doctors and therapists utilize Hypnotherapy for successful treatments in their fields, ranging from pain management to smoking cessation to birthing and to sex therapy, to name a few.
Next classes begin June 11-15, 2020 (part 1) and August 6-10, 2020 (part 2)

The Ultra- Religious Sex Offender
by Susan LaFehr Bollinger, Ph.D. LMHC


Many therapists say they don't want to work with sex offenders and want nothing to do with them. Most therapists don't know who sex offenders are, the incredible variety there are, and their various motivations for offending. Even if you don't work with them, you probably have clients who have been victims, friends who are afraid of them, or you are in a position to inform the general public about this maligned yet often misunderstood population. So, in case you are interested…………
This is the first in a series of articles addressing the evaluation and treatment of the court committed, ultra-religious, sex offender. These are some of the most difficult and challenging offenders that professionals will encounter in the therapeutic process. In addition to the usual resistance, the sex offender is a paradigm of additional resistance.
Often the committing court orders an evaluation and treatment, "if needed"; this further complicates the matter. Sometimes, the therapist will be able to complete the evaluation before the offender launches into his self-righteous, biblical explanation with quotes refuting his need for treatment. Sometimes not.
He is adamant that his personal relationship with Jesus Christ refutes the need for treatment. Additionally, Jesus died for our sins and by his resurrection, we are thereby absolved and forgiven our sins (Corinthians 15:30) "and cleansed us from all unrighteousness" (John 1:9). Therefore, there is no treatment needed for the "born again" Christian. With his extensive knowledge of the bible, he recites one verse after the other supporting this position. Incredulously, the offender fully believes that the therapist accepts this as fact and thereby excuses him from treatment. Thus, the enduring struggle begins.
At this time in the evaluation session, there is no sense trying to engage him further. Submit your evaluation to the offender's probation officer recommending treatment, noting his reasoning for refusing same. The officer will refer him back to the program. When the offender returns, make it clear that the power and authority belong to the probation officer and the committing court not with you. Stress that he can choose to obey the court order and attend the treatment program, or not. This is his choice, not yours. Quote him that "He that scorns instruction will pay for it, but he who respects a command is rewarded." (Proverbs 13:13)
When the offender returns, it is advised that there be one, if not more, individual sessions making it clear he will be assigned to a group. This is the time to challenge and hopeful refute his reasoning with some of the quotes below before he is assigned to a group. This saves a lot of time when he does attend a group.
It is recommended that the therapist put the rebuttal verses on three by five index cards with a highlighted title of the subject matter. This allows for the quick comeback that is so important with this type offender.
Here are some helpful verses:

2 Peter 3:16-17 Peter is writing about Paul: "…His letters contain some things that are hard to understand, which ignorant and unstable people distort, as they do other scriptures to their own destruction…be on your guard so that you may not be carried away by the error of lawless men and fall from your secure position."

Hebrews 12:7-11 "Endure hardship as discipline…For what children are not disciplined by their father? If you are not disciplined then you are not legitimate, not true sons and daughters at all. Moreover, we have all had human fathers who have disciplined us, and we respected them for it…They disciplined us for a little while as they thought best…"

Proverbs 15:5 "A fool spurns his father's discipline, but whoever heeds correction shows prudence."

Proverbs 6:23 "For these commands are a lamp; this teaching is a light, and the corrections of discipline are the way to life."
.