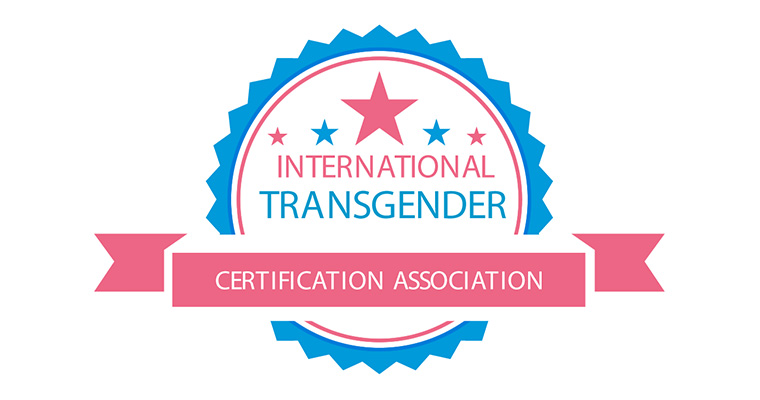 The International Transgender Certification Association, Inc. (ITCA) was founded by five influential and passionate women who, through their own work, recognized the lack of clinicians and specialists available to serve the transgender community. The focus of this organization is to enlarge the existing network of service providers. ITCA's mission is to offer the education, training, and certification needed for the delivery of professional, ethical and knowledgeable care.
A 2011 study by Gary Gates of the Williams Institute estimated that 0.3% of adults in the United States are transgender. In other words, 1 in every 333 people may need guidance or counseling at some time to address their gender dysphoria.
ITCA recognizes that every individual's journey requires experienced professionals and para-professionals to facilitate decisions about life choices. Currently, there are very few therapists, physicians, and other healthcare providers who are knowledgeable about the transgender community and even less who are willing to treat them. It is for this reason that ITCA will be offering training that will educate professionals and paraprofessionals and continuing to provide the support for them to serve this diverse population.
ITCA Mission Statement
ITCA's mission is to provide credentialing, standards of practice, professional identity, and self-regulation for service providers of the transgender community.
ITCA recognizes that the transgender community has long been under-served by the community at large and health care providers in particular. There has been limited research and training of providers in the field of transgender health care. ITCA advances the field of transgender health care and of those diverse professionals and community supporters committed to enhancing the lives of transgender, transsexual and gender non-conforming people in all cultural settings.
The purpose of ITCA is to provide a cohesive organization that credentials healthcare professionals and community providers by promoting ethical guidelines, offering training and education, and developing networking resources.
ITCA Goals
To advance the field of transgender health care by focusing on improving service delivery to transgender, transsexual and gender non-conforming community.
To educate and certify healthcare professionals and community providers to ensure quality care and services.
To provide a network of highly qualified experts in the field of transgender health by maintaining consistent standards of care.
This certification program includes 56 hours of classroom training, taken either in person or via webinar over the course of (2) four day weekends. Additionally, students will complete four (4) hours of supervision spread out among the instructors. The $2,495 program cost is all-inclusive.Contact Us for more information.
Testimonials
"This was one of the most comprehensive, informative and insightful trainings I have had the pleasure to take.  I felt that there was a thorough review of all aspects of transgender care, informative & supportive instructors and remarkable supervision.  The interactive sessions with the panel members who fall under the Transgender umbrella were particularly helpful.  This course is highly recommended." 
- Peg Hurley Dawson, LMHC, CST
"I recently completed the Transgender Care Therapist Training Program that was conducted by the International Transgender Certification Association.  This training was invaluable and worth every penny. I was completely engaged throughout every moment of this incredible training. If you are truly passionate and interested in becoming a Transgender Care Therapist/Specialist/or Professional, I highly recommend this training program."   
- Doris Kitchen, LMHC
"The course is an excellent resource to gain competence to work in this area.  The presenters are very supportive and generous with their knowledge, sharing actual case studies with the participants.  I highly recommend this course."
- Jane Janer, Psy.D.
"This experience has been so amazing, well thought out, well planned, informative and makes me want to continue expanding my education."
"The course is an excellent resource to gain competence to work in this area. The presenters are very supportive and generous with their knowledge, sharing actual case studies with the participants. I highly recommend this course."
"This training changed how I will do therapy and may have changed the total population with whom I may work."